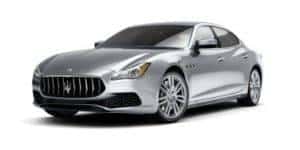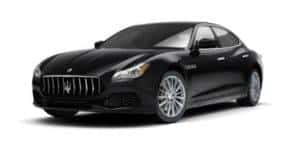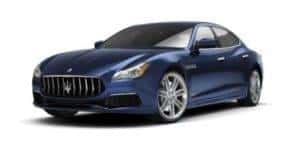 The new Maserati Quattroporte is Denver, Colorado's ultimate luxury sedan. The Quattroporte has been the flagship of the Maserati brand for over 50 years! Starting with the amazing V6 powertrain in the Quattroporte S and S Q4, and going up to the mind-blowing twin-turbo V8 in the GTS, the amount of power you have available under your right foot is more than enough to handle any situation. Remember, Mike Ward Maserati serves the entire Denver, Colorado region.
The new Maserati Quattroporte comes in three different models:
The Maserati Quattroporte S (MSRP starting at $103,400)
-The Quattroporte S starts where others fail. The base Quattroporte has more features than most other luxury cars' highest trim level! Luxury and power are the key features of the 2017 Maserati Quattroporte S. The S comes with an amazing 3.0L V6 twin-turbo with 404 HP and 406 ft-lbs of torque. This allows the Quattroporte S to go from 0-60 mph in 5 seconds flat and reach a top speed of 177 mph. You would think that this much power would drink in huge amounts of fuel; however, the Quattroporte S averages 18 MPG combined city/hwy.
The Maserati Quattroporte S Q4 (MSRP starting at $109,500)
-What could make the new 2017 Maserati Quattroporte S better? Add all-wheel-drive! In addition to the extra all-weather grip that Maserati's intelligent AWD system adds to this car, the 0-60 mph acceleration drops to a scant 4.8 seconds while maintaining the efficient 18 MPG fuel economy. Did we forget to mention that the 3.0L twin-turbocharged V6 is engineered by Maserati and built by Ferrari?
The Maserati Quattroporte GTS (MSRP starting at $145,500)
-What would happen if you added two more cylinders to this incredibly powerful engine? Try 523 HP and 524 lb-ft of torque! The 3.8L V8 also sips gas with a combined 17 MPG city/hwy rating. How fast is it you ask? Try 0-60 MPH in 4.6 seconds with a top speed of 193 MPH. Each trim level also gets Maserati's amazing 8-speed ZF transmission. This system has five different modes of operation: auto normal, auto sport, manual normal, manual sport, and increased control & efficiency (I.C.E.). Each also comes with Maserati's Skyhook continuous dampening variation system to deliver driving comfort and sports car handling with ever-changing road conditions.
–GranLusso or GranSport trim: The GTS offer two luxury trim options. The GranLusso package offers exclusivity and luxury. Bespoke silk interior, wood and leather steering wheel, wood trim, power foot pedals, power rear sunblind, four-zone climate control, heated rear seats, chrome bumper inserts, body-colored sideskirts, black brake calipers, and 20-inch Mercurio alloy wheels. The GranSport package takes you on the sporty side. The 21-inch Titano alloy wheels show you that Maserati is not kidding. Generous use of carbon-fiber inside and outside the car is visible. The GranSport also features gearshift paddles, sport seats, sport foot pedals, a sport steering wheel, and new front and rear sportier bumpers.
New Maserati Quattroporte Interior
The new Maserati Quattroporte is the pinnacle of excellence when it comes to luxury! The unique styling and trim makes the Quattroporte stand out in ways no other luxury car builders can comprehend. The new 2017 Maserati Quattroporte is one of the best cars you can find for sale and drive in the Denver and Colorado area. Remember, Mike Ward Maserati is your Colorado Maserati dealer!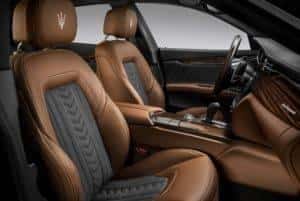 VIEW NEW DENVER, COLORADO MASERATI QUATTROPORTE INVENTORY: