Learn About the Upcoming Maserati MC20 Cielo Spyder with Mike Ward Maserati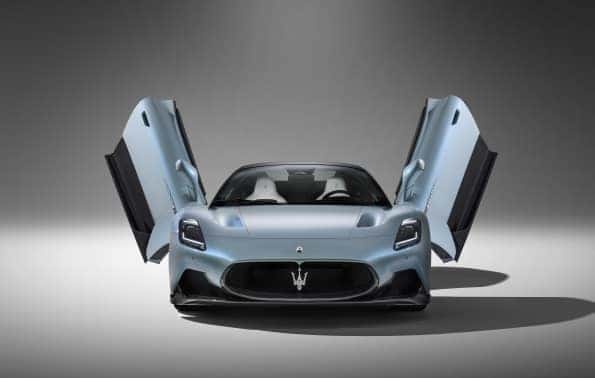 Exciting New Addition to the Maserati Lineup Coming Soon
The MC20 is the elite sports coupe that Maserati offers Colorado drivers who desire a premium cruising experience while looking good doing it. Fans of the existing MC20 will love knowing that a convertible version of the vehicle will soon be coming to the Maserati lineup. The Maserati MC20 Cielo Spyder will revolutionize how luxury and performance-minded drivers see their elite sports cars. Innovative technology meets superior performance to create an unmistakably magical ride for everyone in the vehicle. 
What Do We Know About the Maserati MC20 Cielo?
The unique Spyder body style of the upcoming MC20 Cielo is a strikingly beautiful visage to behold on the road. Onlookers will be sure to turn in your direction when they see the gorgeous and powerful-sounding vehicle zipping by them. The MC20 Cielo will also be a hit at local car shows as its unique features will draw curious crowds. Among the new features that will make the MC20 Cielo a sensational option is the introduction of a glass roof that is electronically retractable. Not only is this roof an innovation of technology, but it features a new technology known as Polymer-Dispersed Liquid Crystal. This will directly alter the visibility of the roof to either be opaque or clear based on driver preference. Powered by the same elite Nettuno engine that is found in the base coupe version of the MC20, the Spyder will deliver heart-pounding thrills all over Colorado and the surrounding states. 
Learn More About the Maserati MC20 Cielo Spyder with Mike Ward Maserati
Mike Ward Maserati in Highlands Ranch, Colorado is excited to learn about the upcoming new version of the excellent MC20. If you would like all the most recent details about the Maserati MC20 Cielo Spyder, contact or stop by our dealership today. Our sales associates will be happy to provide you with all the latest information we have available for the newest sports car from the legendary luxury and performance brand. When the MC20 Cielo becomes available for order, choose Mike Ward Maserati as your go-to Denver Metro dealership destination for quality customer service. 
(Photo Credit: Maserati)