Check Out the Maserati Gran Finale Celebration Event Going On at Mike Ward Maserati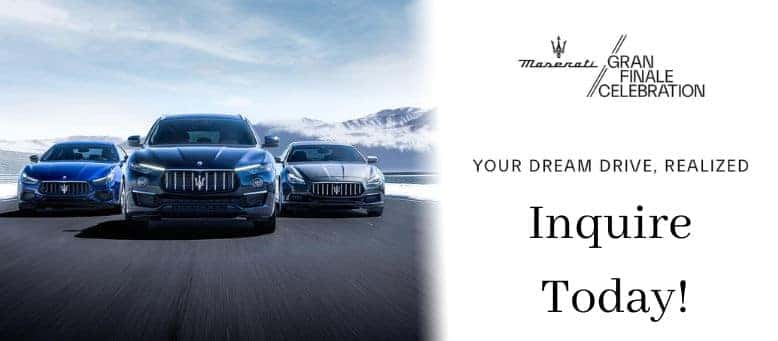 Special Leasing Event Going On at Mike Ward Maserati
To celebrate the end of 2022 coming up, the Maserati Gran Finale Celebration event is currently going on at Mike Ward Maserati near Denver, CO. This dedicated leasing special invites you to get behind the wheel of a vehicle that invokes a sense of elegance and vigor you will adore. Stop into our Highlands Ranch dealership today and find out which qualifying Maserati model fits your needs the best. One of our excellent sales staff members will be happy to greet you and show you all of the Maserati models that you can lease during this spectacular lease special. 
Why Shop During the Gran Finale Celebration Event?
The 2022 edition of the Maserati Gran Finale Celebration event is a great time to lease a fantastic new Maserati if you are eager to enhance each of your drives. During the event, any qualifying Maserati vehicle will have its first lease payment waived. This means you get to experience the majesty of a new Maserati with ease! 
To find out if you qualify for this exciting event, you can contact our sales team by phone at (303) 470-7000 for more information. Alternatively, please feel free to stop in and speak with one of our staff members directly if you would also like to get an up-close look at the qualifying Maserati vehicles. When you choose Mike Ward Maserati for your luxury vehicle shopping needs, you are getting to work with dedicated sales professionals who are highly regarded by your fellow Colorado luxury-minded customers. The Maserati Gran Finale Celebration is a great way to not only end 2022, but also find yourself behind the wheel of a high-performance luxury vehicle that you will love for years to come!