Supercar Saturdays at Mike Ward Maserati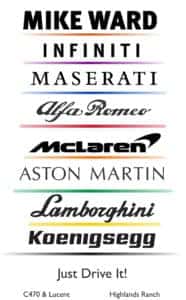 Join the Mike Ward Auto Group on the 3rd Saturday of the Month for our SUPERCAR SATURDAY car show event in Highlands Ranch, CO! (weather permitting)
We welcome all types of cars and trucks to join our Denver area car show!
Our Next Event is: Saturday, April 24th!
The show now runs from 9:00am – 12:00pm
NO PRE-REGISTRATION!
We ask for a minimum $20 donation (CASH ONLY PLEASE) to show your car at the show.
As always we will have water, sodas, and a few snacks available.
Donations are encouraged for all attendees!
We are so excited to support a local non-profit that is so committed to our community and children.
Please see the link below for more information about the amazing work they are doing!!
https://extendedhandsofhope.org/
If you would like to get on our list to be notified of future events, please sign up below!